How to Fortify Your Project Against Severe Weather Damage with Glass Block
Severe weather events are on the rise in North America. Recorded hurricanes, tornados, severe thunderstorms, and derecho activity have steadily increased in the past five years. These events are serious and have caused catastrophic damage to the commercial buildings, farmland, and residential properties stranded in the storms' paths.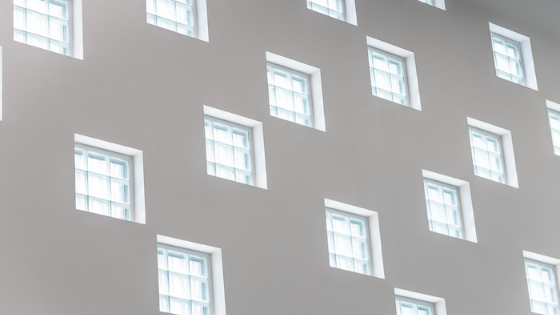 Severe weather events are on the rise in North America. Recorded hurricanes, tornados, severe thunderstorms, and derecho activity have steadily increased in the past five years. These events are serious and have caused catastrophic damage to the commercial buildings, farmland, and residential properties stranded in the storms' paths. 
For instance, in 2020, just 22 of the numerous reported severe weather and climate events in the United States resulted in over $95 billion worth of damage. Furthermore, due to climate change, atmospheric scientists are predicting that North Americans should expect to see more instances of these intense, damaging storms in the coming years. 
This is not good news for residents and businesses situated in severe storm regions, such as Florida, Texas, Tornado Alley, the Carolinas, and many other eastern coastal states. However, it presents an opportunity for architects, engineers, and businesses in those locales to protect their property from potential harm. This data demonstrates the growing need for existing properties and new construction projects to prioritize fortification efforts against the risk of severe weather damage. 
1. Know What Severe Weather Storm Damages to Expect
Knowing what type of damage you should expect to encounter is key to adequately protecting property from severe weather storm damage. This is to ensure the right products are selected when planning the project. This should be based on your region's weather patterns and its most commonly experienced type of severe storm systems.
Hurricane Damage
A hurricane's intense winds often lead to extensive property damage caused by:
Flying and falling debris 

Storm surges 

Torrential rains 
This typically results in businesses, municipalities, and homeowners having to deal with broken windows, roof damage, water damage, and replacing any ruined belongings inside the structure. Unless a property is insured with adequate hurricane insurance, these costly repairs are left up to the building's owner. 
Tornado Damage
Property damage from a tornado typically results from the storm's damaging winds, intense rainfall, hail, and lightning strikes. These conditions can damage a building's windows, roofs, as well as cause significant structural damage. 
Properties within high-risk areas for tornado warnings may have to purchase additional insurance to cover potential windstorm damage. Most insurance companies in tornado-prone regions require buildings to have FEMA-approved tornado-resistant windows installed before approving a policy or subsequent claims.
2. Plan Where to Support and Fortify
When considering the best way to increase a building's resistance to tornadoes, hurricanes, and severe thunderstorms, think where the property may be vulnerable. 
For hurricane events, a property's entryways, such as doors, garage doors, and windows, are its most significant sources of vulnerability. 
In tornado-prone areas, a property's roof, siding, windows, and doors are at the most significant risk for storm-caused damages.
For both hurricane and tornado systems, windows and doors are areas of a building that typically become damaged. These are the areas that should be fortified against severe weather systems using storm-resistant measures and materials.
3. Select Severe Weather-Resistant Building Materials
Choosing storm-resistant windows and building materials should be done per the region's local building codes and standards and be unique for the specific type of storm systems that move through the area. An example of windows that meet the national standards for hurricane resistance or tornado resistance includes some of Seves Glass Block window products.
Tornado-Resistant Windows
When installing tornado-resistant windows, ensure the product is FEMA certified and approved. For example, the Seves LightWise® tornado-resistant windows comply with the following FEMA and ASTM standards:
ASTM E283: Standard Test Method for Determining Rate of Air Leakage

ASTM E330:Standard Test Method for Structural Performance, Passed air pressure tests (+309/-413) psf., which equates to a wind speed of over 400 mph (with a 1.5 safety factor)

FEMA 361 / "Safe rooms for Tornado & Hurricanes: Guidance for Community & Residential Safe Rooms" : Air Pressure and Tornado Missile Impact Test, Two hits: 15lbs., 2x4 @100 mph

FEMA 320 / "Taking Shelter from a Storm - Building a Safe Room For Your Home or Small Business

ICC 500
Hurricane-Resistant Windows
Windows for hurricane-prone regions should conform with building standards for use and location of hurricane-resistant windows. For example, Seves has numerous glass block window options available for residential and commercial building designers to fortify a project against hurricane-force winds.
The benefits of Seves LightWise Hurricane-Resistant Windows can be seen in a recent project Seves was proud to be a part of. The Patel High School in Tampa, FL, chose to incorporate both the beauty and practicality of glass block while meeting both the Miami-Dade County and State of Florida approvals for hurricane-resistant windows. 
This is because the Seves line of hurricane-resistant windows easily meets the strictest measures of the following residential and commercial standards in the United States:
Miami / Dade County Approval (Protocols TAS 201, 202, 203)
Texas Department of Insurance Approval
State of Florida Approval 
Seves hurricane-resistant windows meet the large missile impact tests referenced in the International Building Code, under ASTM E-1886 and ASTM E-1996. 
Additionally, hurricane-resistant glass block windows from Seves Glass Block are a gorgeous way to add beauty, privacy, and daylighting options to a design or architectural project.
Flood Damage Resistant Materials
Flooding commonly occurs with most major storm events. Storm surges and heavy rainfall are both risks associated with severe weather events that naturally occur in North America. Flood resistant materials help reduce damages caused by flooding and are recommended for use in coastal areas and regions prone to periodic flooding.
FEMA has listed glass block as an approved flood-resistant building material for use in the construction of walls or ceilings. 
To Protect Buildings from Severe Weather, Consult Seves Glass Block, Inc.
Seves Glass Block, Inc. is a global leader in glass block manufacturing and architectural design. Our products have been used in countless applications that simultaneously strengthen a building against severe weather events while beautifying the project. For more information on how our hurricane-resistant and tornado-resistant glass block windows can be customized for your project, check out the LightWise® Architectural Systems offerings.