High Performance products consist of 4" glass block with thicker faces and solid glass brick. This allows the glass block to extend its standard 45 minute fire rating to include 60 and 90 minute when used as window assemblies within fire-rated walls. The increased face thickness combined with solid glass bricks, allows for higher levels of safety, security, reduced sound transmission, and in some cases, ballistic capabilities.
Imperial Sizing
Mortar & Mortarless Installation
Dimensions Vary Based on Product
Residential & Commercial Exteriors
Go for energy savings and sustainability with our patented Energy Savings block. Our innovative process has created a glass block that reduces the thermal transmittance of the classic glass block up to 50%, making it possible to create architectural façades made entirely of glass blocks that promote the conservation of energy and safeguard the environment.
Glass Block (60 & 90 Minute Fire-Rated) comes in 8" x 8" x 4" (THICKSET® 60) and the Clarity also comes in 6" x 6" x 4" (THICKSET® 60). Choose from smooth and undistorted faces or other patterns based on your light admission needs and privacy needs. Choose from Clarity, Nubio, Spray, and Endura.
Vistabrik® solid glass block are available in clear and stippled in various sizes. This solid glass block can offer different levels of privacy, durability, impact and vandal resistance with maximum light transmission. Vetropieno™ solid glass block is available in clear and vibrant colors. Glass block deliver a unique visual appearance unlike standard glass block.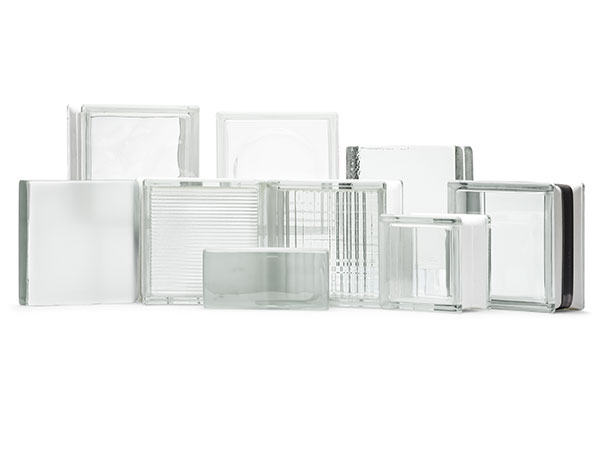 Make High Performance glass blocks the star of your next project
Our glass products are sold exclusively by a trusted network of distributors. Contact us today, and we'll connect you with the professionals who know glass block best.
FIND A DISTRIBUTOR
3" Thinline® Series, 4" Premiere™ Series, Basic Line, Design Line, High Performance, Mini Collection Accessories: