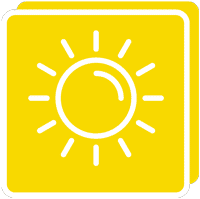 The Solar Reflecting option reduces heat loss from the building in the winter. In the summer it reduces overheating of the interior and protects against UV radiation.
Solar Reflecting glass block comes with a Thermal insulation film and Protective cover film that is removed following installation.
Adding the Solar Reflecting option to some standard block can reduce Light Transmittance by as much as 60%; UV transmittance is reduced to .01; and can reduce the Total Solar Energy Transmittance (SHGC or G-Value) by as much as 45%. Variation in block and options can reduce G-Value (SHGC) to .24.
Size Availability: 883, 884,1919/8 & 2424/8. Only available on 'flat surfaced' block. May require longer lead times and minimum quantities.