Designers Can Help Clients Improve their Indoor-Outdoor Space with Glass Block
Designing Indoor/Outdoor Living Spaces with Glass Block
Architects and designers in Europe have utilized glass block in their building designs for decades.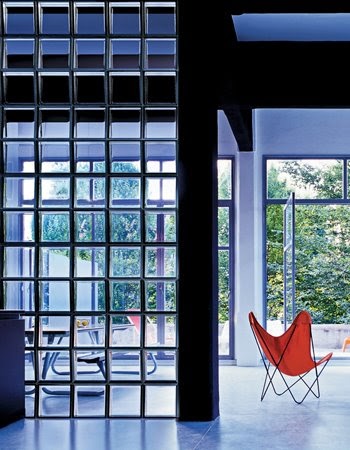 Designing Indoor/Outdoor Living Spaces with Glass Block
Architects and designers in Europe have utilized glass block in their building designs for decades. Now their North American counterparts are increasingly turning to these beautiful yet sustainable building products to create indoor/outdoor living spaces for their clients.  A floor to ceiling glass block wall leading from the home or business interior to the outdoor patio is an excellent way to bring the outdoors in, no matter what time of year it is, or what the weather is like.
While glass block is commonly associated with uses inside a home or business, designers are also incorporating them into exterior walls, and a myriad of outdoor living projects. Why? Because glass products have the unique ability to transmit light, as well as offer beauty, sustainability, and durability.
Unlike standard pane glass, glass block combines style and privacy. You let all of the light in, with no need for window shades, blinds, or curtains. And it's the perfect material for outdoor use, as it is easy to clean and durable. Unlike other building materials, it doesn't need to be painted or stained, and it won't bend, splinter, warp, or mildew.
Outdoor Glass Block Design Options are Limitless
How you choose to use glass block in your outdoor living spaces are limited only by your imagination. With an incredible array of block sizes, patterns, and colors, you can create a custom design for your clients that they will love. 
Blending a home or commercial interior design with the outdoor living space is easy with glass block. Installation is easy, whether you choose a mortar or mortarless method. Walls and partitions made with our beautiful yet durable products will stand the test of time. 
Some of our favorite ways to utilize these amazing, sustainable construction and building materials outside include:
Outdoor Glass Block Wall
An outdoor glass block wall can offer privacy from the neighbors, yet add beauty to a home or business. Placing a glass wall at the edge of a patio also gives vertical interest to your outdoor living space. Get creative with colors for added interest.
A glass block wall can also be utilized to set off landscape elements. For example, a landscape design might incorporate a stair step block wall on each side of the entrance to a secluded garden space. This provides an enticing and inviting feel, beckoning visitors to come explore what is beyond the wall.
Partitions for Rooftop Decks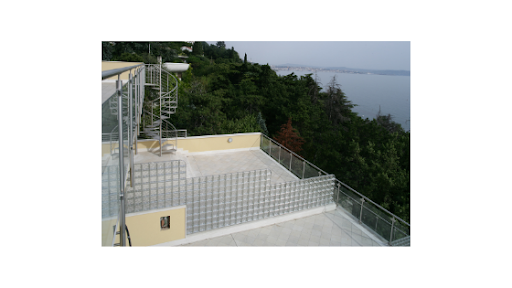 Glass block partitions are perfect for rooftop decks. Whether at a larger residence, condominium complex, hotel, or other location, designers and builders can ensure privacy, yet ensure light transmission. 
The exterior balcony wall can be constructed with glass block as well, if you choose. Or you can mix materials for a contemporary look.
Glass Block Outdoor Shower
As more and more homeowners and property managers are coming to realize, an outdoor shower is not only luxurious, but a necessity for beach houses and houses with a pool. An outdoor glass block shower is the perfect, yet stylish solution.
Much like their interior shower counterparts, outdoor glass block showers can be constructed in rectangular units, in a corner unit, or with rounded All-Bend® components. You and your guests have the ability to wash off the sand or rinse the chlorine from your hair and swimsuit before you enter the house.
Pool installation companies and home builders alike can suggest installing a glass block shower at the time of pool installation, or as beach house plans are being finalized. Custom design the shower, or utilize a kit.
Outdoor Bar
An outdoor living space or outdoor dining area isn't truly complete without an outdoor bar.  Custom design the bar to your client's specifications, or use a glass block bar kit. Incorporate team colors, or other custom details for a cool and modern look. Turn your home bar ideas into reality with glass block. An outdoor bar expands entertaining capabilities, and our products make it unique.
Glass block bars are typically L-shaped, U shaped, curved or straight. For a freestanding bar the U-shaped or curved designs work best. Add a countertop and some bar stools, and you are ready to serve your guests. 
Glass Block Outdoor Lighting
Outdoor lighting is important to the safety and security of any outdoor living space, whether residential or commercial. And once again, you can utilize glass block products to add a unique flair. 
Solar Powered Landscaping Lights
These photovoltaic glass block landscaping lights install directly into the ground or walkway. The low voltage lighting is ideal for brightening exterior locations while conserving energy. You never have to worry about turning them off or on.
Use Seves Glass Block for Innovative Outdoor Living Spaces
Seves Glass Block Inc., is the world's leading manufacturer of glass block.  We are committed to innovative design and research to produce the best quality building products that today's homeowners and designers demand. For stunning and energy efficient design ideas that will inspire you, browse our website.